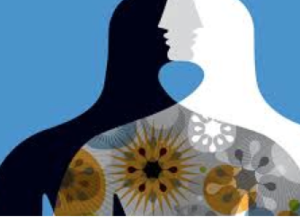 Actually quite a lot.
If you haven't heard, microbiomes are the 'communes' of life, so to speak, and quite possibly the source of the next big breakthroughs in health and agriculture.
Microbiomes are all the organisms that co-habit a living organism.
Our human cells are only a small fraction of us. There are also some 100 trillion microbial cells … good bacteria, and the like, that live within us and keep us healthy. Same with plants and animals. Without these symbiotic, interdependent relationships we would not exist.
As scientists are now delving into collective genomes, they are understanding that the old way of just focusing only on the 'host' cells misses the enormous importance of the whole microbiome entity.
Business is arguably the same. We traditionally think of our company as a separate, independent organism that lives within itself and only interacts with the world through sales and marketing.
What if we learnt from science and created our company's microbiome? What if we sat down and truly defined each of the entities in our entire business eco system and then built interdependencies with each so that we all thrive and survive together?
What the heck am I talking about?
A simple example. Let's play with 'advocacy'.
We all know in today's digitally connected world that the more people advocating your company and brands the better. Right? Personal referrals are king.
Yes, we already have tactics to motivate and even incentivize advocacy and, yes, from time to time this works, but what if we actually make it our master strategy?
What if we deliberately set out to make it a priority in our relationships with every organism or entity that lives within our company's microbiome? This would include employees, neighbors, customers, consumers, partners, affiliates and communities.
In each case, we can develop an 'interdependency', whereby it is in the best interests of all to vigorously advocate for each other. In fact, we could get to the stage where we only hire or, work with entities, that actually have our advocacy linked to their ongoing success.
Tons of ways to do this but if every entity in our microbiome is offered a different deal for advocacy (employee bonus, cost or price incentives for others?), then even in small ways we are working as one.
Heady stuff granted but one heck of a philosophical approach to building a company's future. Right?
We love this stuff and are always looking for creative, innovative and sustainable ways to grow companies and their brands. Come play with us. And we'll help you work out the best way to grow your company.
We are Rocket Branding and honored to serve. www.rocketbranding.com, 312 951 5178
Thank you.