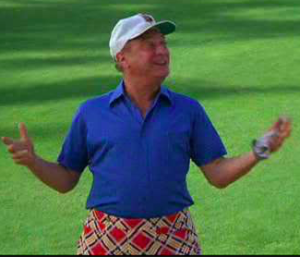 Is Trump Al Czervik, the bawdy, politically incorrect businessman that takes on Judge Smails and his elite, country club establishment? Or at least he might hope so.
Before the barrage of sexual misconduct stories, you could say that the presidential race was still within the confines of the grimy politics of the House of Cards series. Now it,s full-out pop tabloid warfare. Policies forgotten, the media is having their best time ever with Bill Clinton's dalliances, Hillary's endless e-mail gaffes and of course Trump's 'p**sy grabbing, locker room banter.' Why even the Kardashians are envious.
Can the Trump brand channel Rodney Dangerfield's lovable, 'I get no respect,' 'for-the-little-people' character and save the day? Or is the brand beyond even the perennial box office draw of the underdog champion?
Do enough American female voters look beyond Trump's foibles or are the endless polls and pundits right in predicting Hillary's inevitable victory with a few weeks to go?
I guess we'll find out, but in time left, brand experts what would you do to ensure victory for either brand?
Some thoughts:
Hillary's brand is shaky but OK. Her 'career politician' label is still a double-edged sword. Supports her experience but turns off the growing numbers who feel 'Washington' has failed them. If all the pollsters are right then it's her's to lose at this stage. So probably best to stay the course. Push policy and 'Presidential tone' and keep goading Trump. Yes, it's possible that more damaging emails will surface. It would have to be pretty bad to change the game. She has already been exposed for probable lies, possible Clinton Foundation issues and her unfortunate views of voters … deplorable etc. But it is probably all 'baked in' at this stage. And as long as she stands up in public, her health issues if any will not be a factor.
Now to Donald. Well, as mentioned earlier, a tough path to victory. Again if you believe the experts, Trump's poor numbers among women will be hard to reverse especially with the prospect of the first female POTUS let alone more 'sexual predator' stories. This on top of reports that his ground game is no match for the Democratic Machine in the supposed 'swing' States.
But we are brand experts and love a challenge, right?
This may well be impossible, but Trump should try to take the spotlight off him and put it back on the American voter. Like Al for the little people, not for him.
His supporters are reportedly still with him. If he spends the time left fighting his accusers, then he will do little to woo new voters … women or 'undedicededs.' His ground and media support are not favorable. He needs to muster all his media genius and focus on one message. It's not about me. It has never been about me. It is about YOU and WINNING. The bigger the Government. The bigger the loss for YOU. Let US fix the problems and get us back to jobs, peace, and prosperity. If you believe that the likes of Hillary, Obama, Pelosi and so on will lead us out of the mess, we are in, then vote for them. If you want change. If you want to be able to support your family and have some control over your life then vote for my party and together we'll make American Great Again. Vote For us, for our children and the world.
Further, with this as an opening, he needs to get personal so that voters can see themselves in what he is saying. Something like. Today you pay X% of your income in Government costs. That was Y% before Obama and Hillary took over. Vote for her and bigger govt. and you will pay 2X% in four years, and your children will each have $X million dollars in debt on their head every day. If you make less than $50K with the current regime, you are more likely to be closer to the poverty line than in no other time in history. Quality education and health services will be out of your reach, and shared housing and living will become your new norm. Yes, dark picture but it is America's reality unless we do something about it.
Now I have no idea if any of this is possible or even true, but quite frankly the Hillary brand will prevail unless the Trump brand can go back to their original premise and make it real. Just like Al in Caddyshack if Trump can be the peoples' force against the 'establishment' then his message may resonate with voters as they go into the booth. Hey, it might coalesce his party and even bring in a few Bernie Sanders voters who are still skeptical of a Hillary Government? Win-win for all.
What say you?
We love this stuff at Rocketbranding.com. Let us know what you think.