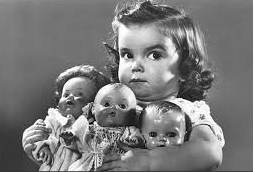 Wall Street believes 'greed' and 'fear' drive financial markets. These two emotional states have also driven brand growth for decades. But something is changing, and one could argue that 'greed' is now best stated as 'hope', at least for branding purposes. Disregard this change at your peril.
Let's break it down.
'Fear' is easy to understand. Consider brands for insurance, medicine, and security. Not the kind of products we think of first thing in the morning, or at all, if we can help it. We buy them when we fear the consequences of not doing so.
Insurance brands like Geico, Progressive, and Aflac, try to break through this lethargy with entertaining characters – lizards, ducks (and of course the omnipresent Flo) with 'no-fuss-less-money' approaches. They try to overcome disinterest without the heavy hand of fear. Then there is Allstate's Mayhem campaign that hits you over the head with it. Literally.
Drug and medical brands also depend on the 'fear and consequence' mindset. Let's not delve into irritable bowel syndrome and such, but you see how playing on fear works to drive these brands.
'Greed' on the other hand is all about the things we want. A whole lot more engaging. Luxury, shiny, creamy, gooey, exotic travel, exquisite perfumes. The list goes on. Stuff that excites, pleasures and feeds our self-indulgences and social image.
Qantas Airlines enjoys one of the best safety records in the world but rarely promotes it. Comfort, service, and destination are all better selling points than the scary safety notions. Car brands are notorious purveyors of greed. Sleek, sexy, fast. Volvo played the family safety card. Even though successful over the years, it has been difficult for them to also sell the performance and image of that owners seek.
If you understand where your brand competes in the 'greed and fear' contexts, you will know how to position, message and market it.
But as mentioned at the beginning, for the first time in maybe five decades, this I believe is changing and quite profoundly so.
Fear is still fear but greed is in many ways is much less in vogue. At one time it was quite aspirational to be wealthy and successful. Big car, big home, big career. You were to be congratulated, envied and even admired.
No so much today. Perspectives have changed. The rich are still rich and even richer. But the poor populations, the environment, and nature are all at higher risks and the stigma of power mongering and corruption among 'elites' the world over is now at a flash point. New terms like 'clean the swamp', 'populist view' and 'purpose-driven' marketing are emblematic of this.
I remember at one time being on the team to sell the new American Express Green Card campaign, 'Membership has its privileges globally. It was very successful in the North America but not so internationally. To many cultures, only the ruling classes enjoyed privileges. I believe that North America has caught up with this now and again the idea of greed or excess so to speak is no longer PC.
So what do we do? Clearly, consumers still want their luxuries and pleasures and will buy brands in this context. But be careful.
If your brand is supported by those over 50, I'd say be as hedonistic as you want. But if your consumer base is under 40 and Millennial then I would rethink your Greed platform.
Folks under 40 have a greater sensitivity to the notion of greed partly because of the basic inequality or injustice issues, but also importantly because of uncertainty of the future and more so their future. Clearly fear has crept into greed. Some of this is real of course in terms of the health and safety of the world, but some of it is also from the daily flood of negative news. Between the 24/7 broadcast news and social digital media, we not only get all the negative world headlines (bad news sells) but we get on the spot, real time videos with the more scandalous zooming around the Internet at warp speed. So we not only hear the official news but also the supposedly 'real' backstory often from someones' cell phone.
We hear and see way too much of the bad stuff, and it plays major havoc with our sensitivities and sense of well-being.
So here is my simple answer.
Let's rethink 'greed' as 'hope' and if our brand needs to live in the 'I want more' space (formerly known as 'greed') be very careful how we moderate our message and present our brand. It's not just about being better but being human. It's not about isolated individuals but social fun and engagement. More authenticity. Less BS.
Bottom line. If you are building a brand in a 'fear' context, go at it full blast but if you favor the 'greed' context then at least think long a hard about moving into a 'hope' context where humanity and authenticity thrive.
We love this stuff at Rocket Branding.
What say you?