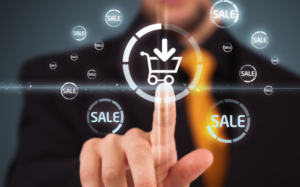 There is nothing sadder, I think than seeing an empty space in a shopping center, once filled by a vibrant, bustling retailer.
E-commerce is no longer a new growth segment. It is now shaping the future of retailing. Aided and abetted of course by savvy consumers who shop the retail options they want, without moving more than their finger.
Yes, we get it. This is not news. And 'brick' retailers are already finding ways to marry 'bricks with clicks'… personalized offers, store pick-up/return, etc.
But now Amazon is reported to be acquiring premier food retailer Whole Foods. Bricks and clicks galore!
 There are all sorts of predictions and scenarios on what this will mean to traditional brick retailers. Especially as it relates to the future of large format retailers? Do we really need to battle our way to and through the local Costco, Target or Wal-Mart? Why can't we buy online and have them battle their way to us? Uber of everything?
And more to the point (as it always is) why do we, consumers, have to pay for that large space (as we always will). Give us what we want in an affordable, convenient way, and we'll take it every time. And that probably means that we won't be paying for the real estate taxes, utilities, and wages that the local, debt-ridden municipalities will seek from your 'big box' facilities.
 What does this all mean to traditional brand retailers?
 So you are a brand that has spent years, if not decades, building its reputation and support through the shopping experience.
You may be like a local hardware store that thrived for years near me with its jam-packed shelves and friendly staff. Customers walked in with some piece from a broken old faucet and walked out with the right part and emboldened with the knowledge of how to fix it. You survived a Home Depot opening near by and a move to a bigger space. But you couldn't compete on price and still pay the costs to keep your doors open. You are now a large empty space in a strip mall.
What do you need to do to survive this rather miserable scenario?
Hey, brighten up. You own the one thing that no new brand or new online store can ever have. You have been successful in brick and mortar shopping for a long time. Chances are you have built a familiar and trusted brand relationship with your local community. There is absolutely no reason why your brand reputation will not transfer to the digital world and be even more successful.
It is really as simple as understanding your brand story.
 Take that hardware store above. I cannot get anywhere near the same help or solutions from Home Depot or any website as I once did from that store. Even if I had somehow I wouldn't feel as confident or supported.
So set up a 'knowledge' site with video integration where I can connect, show you my broken faucet. You'll help. If I need a part you'll deliver it from a supply warehouse (maybe have a local charity deliver and be part of your Millennial's 'cause related, purpose-driven community') or you'll send a plumber with a new faucet, etc. Whatever. The idea is that you transfer your knowledge brand story to an online retail opportunity. Site costs are still a lot cheaper than the mounting store costs.
Knowledge is the new 'secret sauce' in digital retailing. It is also the great equalizer. With more and changing options for every shopping item in the world, knowledge is invaluable, profitable and competitively sustainable.
 Yes, I know there is a 'depends' comment here. How can you replicate the smell of fresh bakery online or new car leather or ogle a paper thin TV or try on the new fashion, etc.? All good issues but also creatively solvable with technology and understanding your brand message.
We believe that with rare exception 'brick' retail brands can survive and indeed thrive in the new digital age. It's all about brand story, not bricks.
 We at Rocket Branding love this stuff. Call us, and we'll help find your online brand story and profitable future.