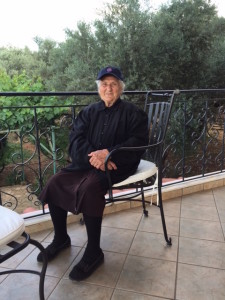 A month in Greece has, not only afforded me a front row view of their 'Crisis', but also a rare opportunity to witness a unique culture cope with some of the toughest financial and indeed social decisions in modern times.
A financial crisis, to be sure, but also a classic Greek drama, played out on the world stage, as cultures and passions collide and a very proud race has a hard look at their future.
More than once I was asked, as a brand professional, what effect all this may have on the perceptions of Greece, as it relates to tourism. Without growing revenues from tourism, it's very difficult to see how the Greek economy can ever rebound.
Being a visitor with perceptions from the news, it 's easy to conclude that this Crisis was not good for the Greek 'brand'. Typically, economic instability and political unrest will scare tourists away and, more importantly, deter the tourism industry from references and investments.
Moreover, as you consume the news, it's also easy to build a world-view of Greece as a crazy place where their newly elected government is scolding their EU partners and threatening the 'Grexit'. This, after receiving some $300 billion bail out funds from them and demanding more, with even less austerity. Greece, with high public spending, lives beyond its means and now wants to continue that way with more funding from others.
Yes, the Hellenes, like no other race in history, will fight to preserve their way of life (generous pensions et al), but as most pundits agree they will have no other choice but to comply. This week's referendum will certainly be telling.
However, after four weeks of getting to know the Greek people, I have quite another view on the Greek brand and what I believe they should do with it. In fact, I believe that the Crisis is a perfect context to rocket it.
Greeks love to talk and debate. Every day, often late into the night, I had the chance to hear the different views of simple villagers, urban professionals, students and, of course, taxi drivers.
Two things stood out for me.
Firstly, how calm and basically sanguine they were about the Crisis. Confronted with even more taxes, cuts and unemployment, one way or another, they believe that things will work out. Until this week, without the headlines, you may not even know there was a major crisis. They have preserved their lifestyle for centuries, against all odds and will confidently continue to do so.
Of course, this could be different as today's deadline hits. But for now there is still positive optimism.
The second and certainly most profound thing I learnt is summed up in the Greek word philotimo. I will not attempt to translate it for you. The best scholars in the world have tried and failed. I will tell you that every Greek understands it instantly. It is a philosophy that suggests how to represent your self and conduct your life and it has within it all the right human qualities — honor, courage, respect, dignity, doing the right thing and more.
And, even though most understand that their bargaining power at the EU table might be weak, they have entrusted their new Government with philotimo (to do the right thing by them) and believe that the EU and the rest of the world will, in time, see that a Greece, the way it is, should remain that way.
Yes, Greeks will agree that their financial systems are broken, and that they are woefully lax on paying taxes and forcing their leaders to be accountable. But they are never going to be like a Germany or any other managed society. At this stage, they want a way to still have the means and freedom to nurture their families and homes without being judged by the commercial standards of others.
They would much rather grow their own fresh food and serve it to you at their restaurant than run a McDonald's. They would much rather have their families nearby than moved overseas for work. They would much rather have their beautiful beaches, islands and mountains controlled by locals than faceless corporations or greedy oligarchs.
Yes, this may appear selfish but in an increasingly homogenized world, where chemicals and sugar are our main food ingredients and substance is losing to hype, there is a wonderful, refreshing authenticity to Greece, the people and their philotimo.
The world needs this haven. And if that means giving them a little financial slack to preserve it, then so be it. These people and their philotimo, to me, should be the heart of the Greek brand. The beautiful islands and beaches will always certainly attract travellers but it is the people, their passion and love of life that makes the experience remarkable and memorable.
Travellers the world over should come to share in and enjoy this genuine, refreshing Greek experience with its real lifestyle, natural vistas, history, people and passion.
An authentic experience in an increasingly unauthentic world.
Oh and while you are about it, make sure you stop by the road side café at the Isthmus of Corinth … the best, most juicy souvlakia anywhere. Opa!
PS. There is a terrific video on Philotimo …well worth seeing, www.youtube.com/watch?v=aXPJNDVfBgU