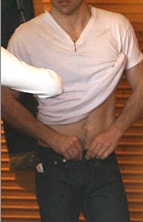 A recent odd travel experience highlighted for me how difficult it can be to launch fast growing brands today.
I was retained by airport TSA agents who informed me that the x-ray had detected a "groin anomaly' and I needed to go to a secure room.
Suffice to say that after a thorough investigation and, a herculean effort on my part not to make a slew of jokes, they let me on my way.
Now I was more than happy to immediately "drop trou" and show them that their fears were quite unfounded but no, I had to go through an extended pat down and questioning. They had their roles and I had to have mine.
So what does this have to do with branding today?
Well two things.
1. Caution
We now live in very cautious world.  What we say or do in public is open to massive amounts of scrutiny and judgment and, in many situations we have to be very careful about how we behave, act or react. The same goes for a brand that competes in any arena where caution is now common. E.g. food, ingredients, health, financial, travel, children and so on.
2. Watching
With the Internet, cameras, drones you are being watched, recorded and classified. So is your brand.
No, this isn't about 'big brother' or sinister plots and it is in no way suggesting that brands should not be spontaneous, flippant or even irreverent, if that is what the brand strategy calls for.
This is just a reminder to carefully assess the mindset of your core customer or consumer and the way life is causing them to make decisions relative to your brand.
And especially be very careful with competitive positioning focuses on Trust or Freedom.
'Trust' can easily be broken if there is a 'gotcha' moment or inconsistency from one brand connection to another.
'Freedom' is an incredible promise as an anti dote to caution and concern but this had better be legitimate or it can become an albatross around the brand's neck…. any one for sea cruise on a sick ship…just ask luxury cruise ship how freedom on the high seas is working for them?
What say you?
Let us help you work through this. Visit www.rocketbranding.com.